On Sunday, August 13th 2013, CBS Sunday Morning featured a powerful piece on Women's bodies, Breast Cancer, Censorship, Art, and so much more showcasing Matuschka's iconic images. The artist was interviewed by the extraordinary Martha Teichner! Headline Story.
Watch the Video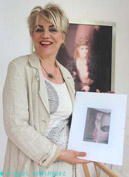 Thursday, October 17, 2013 from 6-9 PM in the University Center Ballroom at Adelphi University in Garden City, LI.
Celebration of Survivorship
Lecture/Presentation/Book, Catalogue & Merchandise signing
Open to the Public: free
Matuschka will tell the story how her ground-breaking self portrait ended up on the cover
of the
Sunday New York Times Magazine
Visitor's Map
www.adelphi.edu
Adelphi University is one of the oldest colleges on Long Island for liberal arts and sciences. We have LI campuses in Garden City and Hauppauge.


Greenfield Community College
Thursday October 24, 2013 from 12:30 to 1:30 pm.
Lecture/Presentation/Book & Merchandise signing
Open to the Public: free
Location: College Library

Main Campus - One College Drive, Greenfield, Massachusetts 01301
Downtown Center - 270 Main Street, Greenfield, Massachusetts 01301